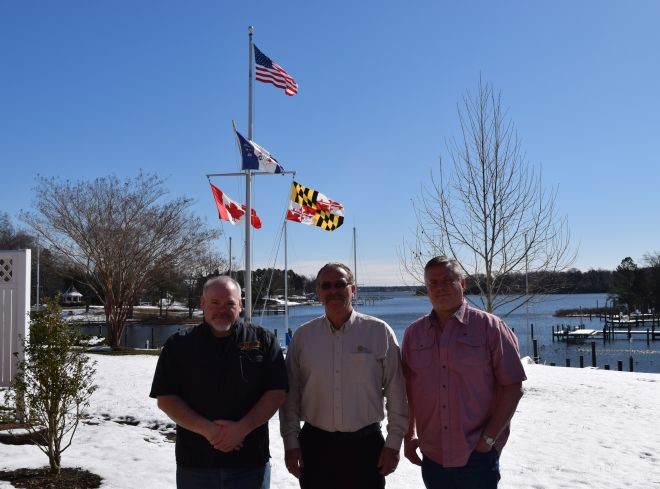 Left to right: Douglas E Hoffman, Timothy P Buck ADBR/Org, and Richard Lemoine Cook
The Negotiating Committee for Local 1842, along with staff member from District 98, participated in the Negotiation Preparation for Bargaining Committees program at the William W. Winpisinger Center in Hollywood, MD. The Local represents employees at Joy Mining Komatsu Franklin PA, which builds equipment for underground mining.
The current contract with Local 1842 & Joy expires June 1, 2018. Recognizing that this promises to be a difficult round of negotiations, the Committee strategized to change bargaining history, map a new direction for relations with the company, put better language in the contract, and to build solidarity in the bargaining unit.
"The week at the Winpisinger Center – very intense long days with instructors full of knowledge gave us the opportunity to assemble and develop a detailed plan to secure the best contract possible," said Assistant Directing Business Representative Tim Buck. "The Committee worked hard, and they leave the Center better prepared to advance the needs of the Local Lodge Union members. There is a tough challenge ahead, but with the assistance from the instructors, IAM Legal and Strategic Resources, we are prepared. We are confident in securing the memberships best interest at the table. This class is a Jewel.
Every committee should take advantage; we thank everyone for doing what they do."
The post Franklin, PA Local 1842 Completes Negotiations Prep Program appeared first on IAMAW.
Source:: iMail