Local Lodge 1296 ALOG Corporation Negotiating Team from Fort Campbell Army Base, KY
Negotiating a contract for a new group of Machinists members is one of the most exciting moments for any IAM representative. On paper, you are able to actually see all the benefits that come from holding a Machinists Union card. There's something to be said about those times. But, being able to give those workers a new, stronger contract about every three years is priceless.
IAM's Southern Territory General Vice President Mark A. Blondin knows firsthand what a ratified contract means to union families. "A ratification signifies that once again, the IAMAW is able to help hard-working Americans secure items like good wages, affordable health care and retirement benefits and strong safety rules that protect workers. It's not just words on a page – it's the ability to be able to take care of one's family and the community. To know that for another three years, the Machinists are in your corner, ready to fight if needed. The ratification of a contract is so much more than dollars and cents. It's an opportunity for our members to slice off a small piece of the American Dream."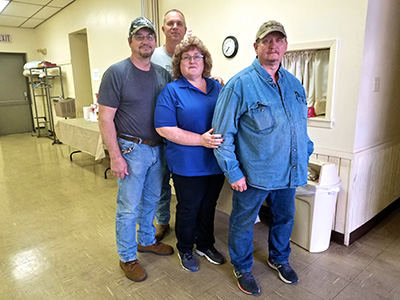 Local Lodge 1948 Negotiating Team from Granges Americas in Newport, AR
In the Southern Territory, the IAM has been busy ratifying agreements. Good news came out of Local 1948 in Newport, AR, when a small but tough group of 18, who work in the aluminum industry at Granges Americas, negotiated some of the best wages in an area where jobs are scarce. With a 100 percent favorable vote, the committee was able to get wage increases of $1.50 per hour to eligible employees on the old pay scale and 3 percent for job grades on the new pay scale, a 401(k) enhancement, insurance premiums to remain the same in 2019 with only slight increases in following years and more vacation benefits.
"The aluminum industry has been devastated by China, but you wouldn't know it by looking at the hard work put forth by this group of dedicated members who have done everything in their power to keep the company afloat and the union intact," said Assistant Directing Business Representative Melone Irvin of Machinists District W2. "Their dedication is inspiring in a town that is struggling. Keeping these jobs afloat means good things for themselves and their families, but also the community. I am very proud of the work done by this group."
But Arkansas isn't the only place where the IAMAW left its mark recently. The ALOG Machinist members of Local 1296 who work at Fort Campbell Army Base in Kentucky are also celebrating a contract renewal. With help from Assistant Directing Business Representative Mike Lee of District 711 and Chief Steward Jim Rud, the IAM was able to stave off the company's attempt at two-tier wage system, obtain 2 percent wage increases yearly, increase the IAM pension from $.95 to $1.05 the first year and get our Machinists more money for safety shoes.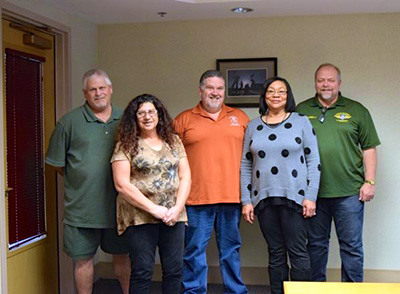 Local Lodge 2777 TH-57 Negotiating Team from Naval Air Station Whiting Field, FL
"It's not often you receive emails and actual phone calls from the members after the ratification, but that's happening," said Lee. "Everyone is thrilled with what the IAM in the South has been able to help them obtain. These workers deserve it! They take care of our U.S. Military and it's our duty to take care of them."
But wait, there's another contract in the South we need to brag about. Two hundred and forty men and women from Local 2777 who work on the on the TH-57 program at NAS Whiting Field, FL spent 13 days in negotiations recently. Their hard work paid off with 3 percent general wage increases annually, $.35 in the IAM Pension in the first year, freezing the medical through 2019 and cementing the dental and vision rates for the life of the agreement.
"This is one of the best negotiating committees that I have worked with in my nine years as a union representative. They kept themselves informed and knowledgeable, and didn't back down," said Business Representative Stephen Jordan out of District 75. "They showed solidarity to the company and it spoke volumes."
#iamsouth
The post Every Three Years… appeared first on IAMAW.
Source:: iMail