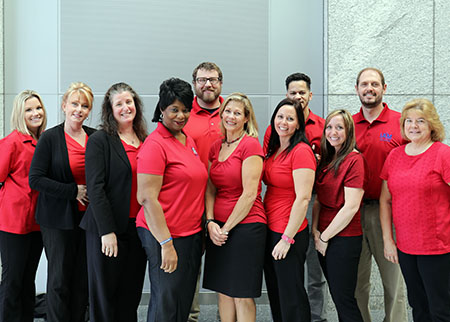 IAM Headquarters employees wear red in solidarity and support of women on Equal Pay Day.
Today is Equal Pay Day. April 4 represents how far into the next year women have to work to earn the same amount that men earned the previous year. On average, women were paid 22 percent less per hour than men in 2016, even after factoring in race and ethnicity, education, experience and location.
According to a 2016 EPI report, women are paid less than their male counterparts in almost every occupation, regardless of whether it is a male or female dominated field.
Unions lead the fight to narrow the gender pay gap. Collective bargaining agreements protect women in the workplace from pay discrimination.
"We have to work harder to ensure our daughters and granddaughters don't have to work their entire lives earning 20 percent less than men doing the same job," said IAM Secretary-Treasurer Dora Cervantes. "It's obvious the issue isn't going to take care of itself, so we have to be involved by organizing and lobbying our legislatures."
"One way to close the gender wage gap is to organize," said IAM General Vice President Diane Babineaux. "A union contract is the great equalizer when it comes to pay and respect in the workplace."
Here are a few videos we found that exemplify the gender pay gap:
The post Equal Pay for Women Still Not a Reality appeared first on IAMAW.
Source:: iMail