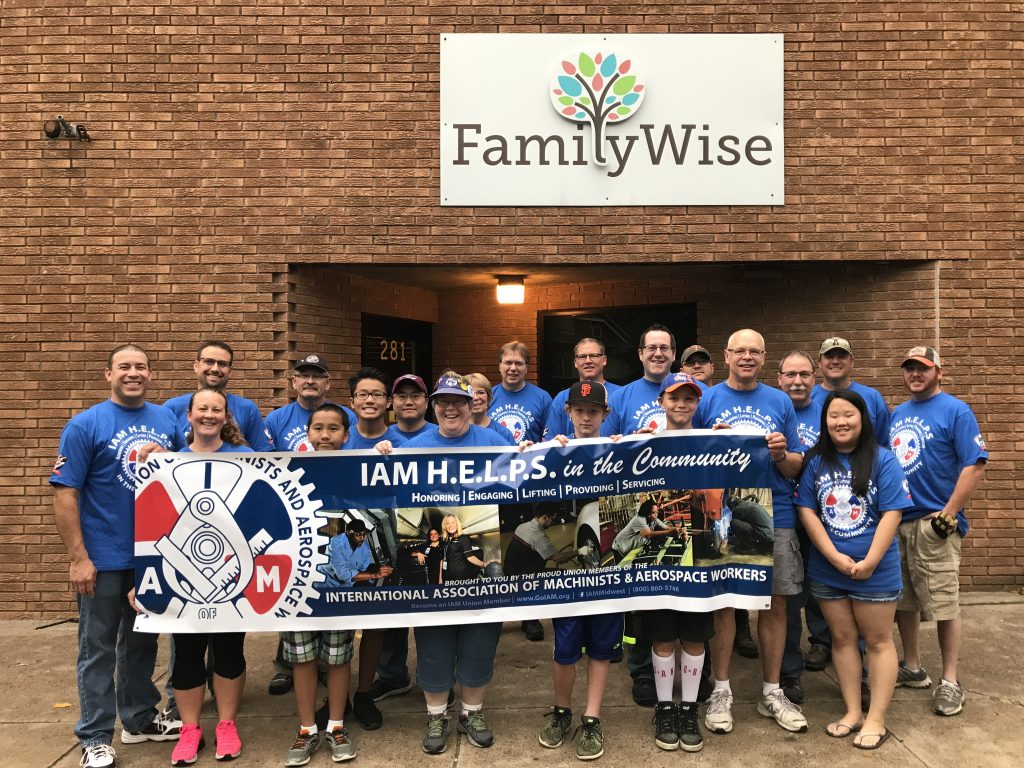 Minnesota families inflicted with poverty, substance abuse, mental health, or domestic violence have a better place to call home, thanks to members of IAM District 77 in Vadnais Heights, MN. Union volunteers from throughout the district recently helped restore a St. Paul facility dedicated to helping such families get back on their feet.
FamilyWise has been keeping Minnesota children and families safe and helping them to lead stable, healthy and productive lives since 1976. Programs and services include early childhood education, parenting skills, and help with providing a safe, secure location for families faced with homelessness, at-risk youth, teenage pregnancy, domestic violence, or divorce.
More than 30 District 77 members, spouses, children and retirees helped FamilyWise with a number of projects including cleaning the building's exterior, removing old carpeting, breaking down old office furniture, and organizing old financial records.
Members of IAM District 77 help restore a St. Paul, MN facility dedicated to helping families get back on their feet as part of IAM H.E.L.P.S., a Midwest Territory initiative aimed at doing more in the communities in which we live.
The effort was a part of the IAM Midwest Territory's "IAM H.E.L.P.S. in the Community" program. IAM H.E.L.P.S. stands for Honoring, Engaging, Lifting, Providing and Servicing. The initiative is a part of the territory's continued efforts to do more in the communities in which we live.
"We're giving back to the community to show folks we're more than just a labor organization. We're here to help people," said IAM District 77 Directing Business Representative John Steigauf. "We need to be partners with the community. We can't just be a standalone group that helps workers. We need to get out and help the community, as well as our workers."
"When we help people, it goes further than our role at the bargaining table or filing grievances," said IAM Midwest Territory Grand Lodge Representative/Territory Human Rights Coordinator Luther Williams. "Community service is a human rights activity. We go in and we help the underprivileged. Helping them helps the community. That's why it's so important for the IAM to be involved in projects like this."
IAM District 77 Secretary-Treasurer Ross Olson coordinated the event for the entire district.
"I was helping go through the list of all the projects available and came across FamilyWise's information," said Olson. "A lot of their values and what they do aligns with the views we have as Machinists – taking care of families and taking care of our community. The District thought FamilyWise was the right entity to invest all of our time and efforts into."
Executives at FamilyWise were more than appreciative of the Machinists' help.
"I just want to take a minute to thank the Machinists and District 77 for coming out here today to help us," said Burnell Buchanan, Associate Director of FamilyWise. "I am floored by how much work you guys are doing. We are only an hour and a few minutes in and you guys already have most of our projects done. Groups like you coming to help FamilyWise are huge for keeping our facilities safe, clean, and welcoming for our clients and our staff."
In addition to their time and efforts, District 77 also donated a 40-inch television along with nearly a dozen different board games for the families at FamilyWise to enjoy.
"Congratulations to IAM District 77 and all of our member volunteers who took part in this important IAM H.E.L.P.S. in the Community event," said IAM Midwest Territory General Vice President Philip J. Gruber. "Your service and dedication to your community not only shows others the importance of giving back, it also shows them what it means to be union. Thank you for all that you do."
The post District 77 'IAM H.E.L.P.S. in the Community' Event Supports Minnesota Children and Families Struggling with Poverty, Domestic Violence appeared first on IAMAW.
Source:: iMail