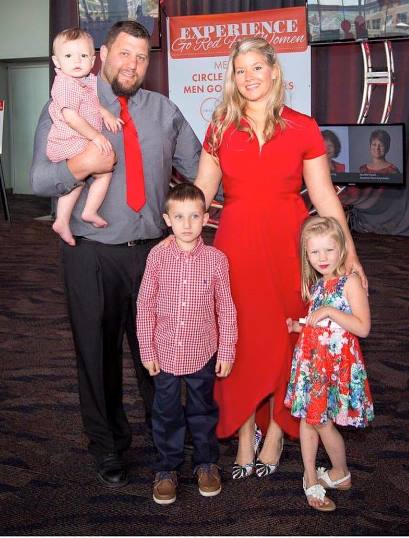 Josh and Golda Gilkison, pictured with their three children, have made it their mission to advocate and spread awareness for heart disease after Golda was diagnosed with peripartum cardiomyopathy and chronic heart failure following the birth of their third child.
Imagine how your life would change if you were informed that at the young age of 30, your wife and mother of your three children was diagnosed with chronic heart failure. This is the exact situation Ohio Local 912 member Josh Gilkison found himself when his wife, Golda, called from the doctor's office in June 2015.
Golda felt something was wrong throughout her pregnancy, but her doctor kept telling her they were normal pregnancy symptoms. She remained persistent and after giving birth, her doctor finally ordered some tests. That's when it was discovered that she had peripartum cardiomyopathy, a rare condition that prevents the heart from pumping blood to the rest of the body properly.
Watch: Golda's Story
Josh, a maintenance technician at General Electric, was devastated upon receiving the news. With a newborn, a toddler and a 5-year-old, he knew there were going to be difficult days ahead.
"I couldn't believe what I was hearing. We had what we believed to be the perfect life," said Josh.
Golda received a defibrillator in October 2015, and her condition is being treated with medication. However, dealing with the symptoms and the uncertainty of the future are a few things their family struggles with daily.
"It's not always easy living with a chronic heart condition," says Golda, "but every day I get to spend with my children and husband is a gift."
In true Fighting Machinist fashion, the Gilkisons aren't just managing their situation, they are conquering it. They have embarked on a mission to raise awareness to help others who may be dealing with the same circumstances.
"My advice is to always be your own advocate," said Golda. "No one knows your body better than you, and if you feel something is wrong, don't take no for an answer."
The Gilkisons worked with the American Heart Association (AHA) to film a video to highlight their story and raise awareness and support a cure of the disease.
They have also organized a team to participate in Cincinnati's Heart Mini Marathon and Walk. The fundraising event benefiting local chapters of the AHA and the American Stroke Association includes running and walking events of different distances, so people of all skill levels and ages can participate. Team "Heart Failure Famous" has over 75 members and has raised over $4,400 to combat heart disease.
If you would like to help the Gilkisons with their cause, you can donate to the Heart Failure Famous team.
Golda's heart condition has changed their lives, and for Josh, it has highlighted the importance of being in a Union.
"I can't say enough about the brotherhood and support I get from my union brothers and sisters," said Josh. "If there is anything I need, I know they are there for me. There is comfort in having an extra family that cares about you and supports your efforts."
You can follow the Gilkison's journey to raise awareness on the Heart Failure Famous Facebook page.
The post Despite Personal Heartache, Ohio IAM Family Strives to Help Others appeared first on IAMAW.
Source:: iMail