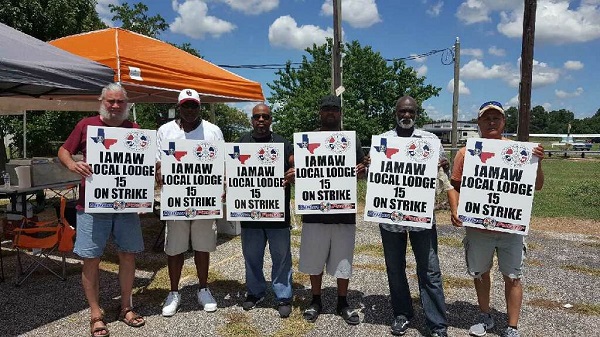 Nowadays, you look around Houston and see the words 'Texas Strong' as the city rebuilds itself from the devastating effects of Hurricane Harvey. The same could be said of the men and women at IAM Local 15 who stood strong on the picket line for 21 days in Houston and didn't back down.
"Not even Hurricane Harvey was able to knock this group down," said IAM Southern Territory General Vice President Mark A. Blondin. "With one voice, they stood together against Wyman-Gordon and made sure the company knew they were walking the line not just for themselves, but for the next generation. These IAM brothers and sisters should be commended for honoring the legacy of the Machinists Union by making sure they negotiated for workers a good and fair contract.
"Our members held strong despite the devastation suffered during Hurricane Harvey, maintained the strike line and continued unity with affected members by picking up the slack whenever and wherever it was needed," said IAM District 37 Directing Business Representative Byron Williams.
The four-year agreement has more wins than losses, passing with a full committee recommendation. Yearly wage increases, raises in certification pay for certain operations and the elimination of the company's desire to create a two-tier wage system, just to name a few. But one of the biggest wins for these members surrounded the long-term disability insurance. Workers managed to increase the time from 30 months to 36, and were able to fight off the company's proposal of reducing the payout in those circumstances. Although it's a small group that is affected by this, for some, this was a big moment.
"Think about this. If you are out on disability, and this is the only money that's coming in to take care of your family, to lose any of that money would be devastating," said Southern Territory Grand Lodge Representative James Parker. "But that's a good example of why we fight for this sort of item at the table. Because to preserve this type of benefit for workers now, not only helps that member in the present, but also changes the future for those who will walk into that shop in years to come."
Blondin explains it's this mentality that sets the Machinists Union apart from other labor organizations.
"This is what makes the IAM such a strong union because we are a democratic organization," said Blondin. "From the surveys we did at the start, we knew what the members cared about and what they were willing to fight for, and even strike for, in the end. Long-term disability was a priority for this group and we respected that fact when we went to the bargaining table. An IAM contract is 'for the workers, by the workers' and that's the way it will always be at the Machinists Union."
In particular for Williams, this contract reminded him of what being union is all about. He walked the picket line with his father, one of those on strike at Wyman-Gordon.
"My dad told me it was a proud moment for him to watch his son during the ratification meetings, especially as this is probably his last contract before he retires," said Williams. "He said he never imagined that not only would we work side by side, but that he would be part of three contracts that will improve the lives of future workers. He said aloud, 'I wish your Mom could see what I see.' "
Because even when there's a Hurricane knocking at the back door, the Machinists in Texas won't waiver in their decision to do what's right for workers, both now and in the future.
The post Can't Knock Us Down appeared first on IAMAW.
Source:: iMail