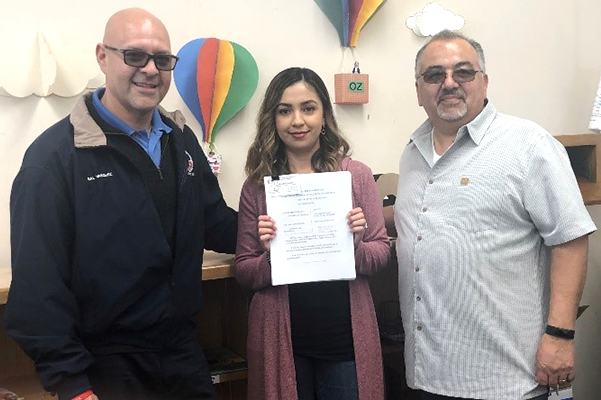 From left: District 947 President and Directing Business Representative Sal Vasquez, Wendy Marquez and Assistant Directing Business Representative Gabe De Alba at the Hart Library in Long Beach, CA.
The leadership of District 947 came to the aid of public sector workers in the City of Long Beach who were being paid below the California minimum wage by filing a law suit against the city.
This injustice was quickly sniffed out and immediately acted upon by President and Directing Business Representative Sal Vasquez and Grand Lodge Representative Richard Suarez. This kind of keen awareness exemplifies the moniker of the Fighting Machinists and demonstrates the IAM's service to its members.
Upon hearing of the pending litigation, the City of Long Beach, in a half-hearted attempt to save face, voluntarily paid the workers the minimum wage with the understanding that they were not bound to do so and could withdraw such payments at the city's discretion.
This unsympathetic ploy by the city was only intended to coerce the union into dropping the case while ensuring unilateral domination over wages. This served not only to strengthen the resolve of District 947 leadership, but the bargaining unit as a whole and emboldened all involved to achieve victory.
The initial trial court ruled that the City of Long Beach was a charter city and not obligated to follow California's minimum wage laws. This decision did nothing to detour the leadership or membership, and an appeal was filed because of the moral substance of the issue.
The court of appeals reversed the trial court's decision and found that charter cities are indeed bound to follow state law, further reaffirming that state minimum wage laws apply to both private and public sector employees.
"I am grateful that my union fought for us," said IAM Sister Wendy Marquez, who was a 10-year city library page at the time of the lawsuit. "Now the city can no longer take advantage of us."
"The result of this appeal not only insures that the workers of the City of Long Beach are paid under the provisions of the law, it gains protections for all workers and their families across the state of California," said Western Territory General Vice President Gary Allen. "I commend the leadership of District 947 for achieving a historic victory in our union's fight for working Americans, human dignity and social justice."
The post California District 947 Wins Monumental Lawsuit appeared first on IAMAW.
Source:: iMail