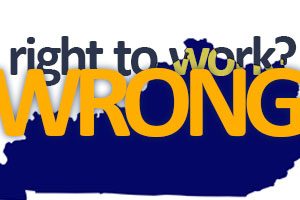 It's just a few short days into 2017 and union workers across the county are under attack by their state legislators. Kentucky lawmakers seem to be the frontrunners in the race to crush middle-class workers by proposing anti-worker legislation in both chambers, including "right-to-work" and repealing the state's prevailing wage laws.
If legislators pass "right-to-work" by the end of this week as they plan to, Kentucky will become the last state in the South, and 27th U.S. state to have the law which allows workers to get a "free ride" and opt out of paying union dues, while still receiving the benefits of a union contract.
In addition to the prevailing wage repeal and right-to-work bill, the Kentucky State Senate is moving forward with a bill that will restrict unions from the right deduct dues from members' paychecks. If passed, unions will have to take a step back in time and collect dues from members individually.
"It's upsetting that the very first bill the lawmakers are putting forward in 2017 is anti-worker legislation," said IAM Southern Territory General Vice President Mark Blondin. "Instead of trying to improve the lives of Kentuckians, their priority is passing laws that are proven to lower wages and decrease worker safety."
Republicans gained control of the Kentucky State House for the first time in 95 years, making the passing of these anti-worker laws possible. The state is home to nearly 200,000 union members. Kentucky, Missouri and Ohio are all expected to see "right-to-work" legislation early 2017.
The post Attack on Workers Heats Up in Bluegrass State appeared first on IAMAW.
Source:: iMail