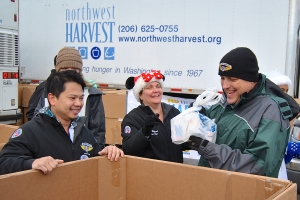 From left, IAM District 751 Union Steward Van Nget, Business Representative Grace Holland and Work Transfer Representative Steven Morrison help load bags of food donated in Everett, WA, by viewers of KING 5 during the local television station's annual Home Team Harvest food drive.
The IAM tradition of giving to others in need continued this holiday season as volunteer Machinists were busy at work with food drives, toy donations and bicycle builds in Oregon and Washington.
Nearly 100 District 751 members, friends and family took part in the 16th annual KING-TV Home Team Harvest food drive to benefit Northwest Harvest, a Seattle-based non-profit that supplies food banks across Western Washington.
Along with providing the manpower that collected cash and loaded donated food into semi-trailers, the Machinists brought checks totaling $3,400 donated by the Washington Machinists Council, District 751 and its affiliated local lodges — plus another $1,300 in cash collected by stewards in their shops and more than 600 pounds of non-perishable food items.
Machinists have been involved with the food drive almost since its inception, KING-TV reporters told viewers during their live broadcast of the food drive.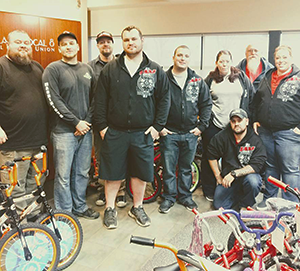 Young Machinists of Gladstone, OR Local 63 joined with fellow members and the Labor Community Services Agency to assemble bicycles for needy children. From left: Matt White, Daniel Bricker, John Albus, Jared Groner, Brandon Michaels, Beth Lacey, Scott Lacey, Doug White and Jessica Deming.
IAM 751 volunteers additionally helped feed the homeless at two missions, staffed Salvation Army red kettles and took part in its Toy n' Joy Christmas toy give-away, volunteered in the Marine Corps' Toys for Tots, the Toy Rescue Mission and built wheelchair ramps for needy families, all in the Seattle area.
Young Machinists of Gladstone, OR Local 63 gave back this holiday season as they joined other members of the local and Portland's Labor Community Services Agency to construct bicycles. The Machinists have a longstanding alliance with the agency and the Young Machinists finished with the satisfaction of knowing many disadvantaged kids would have smiles on their faces Christmas morning.
The post And the Machinists Just Keep on Giving appeared first on IAMAW.
Source:: iMail