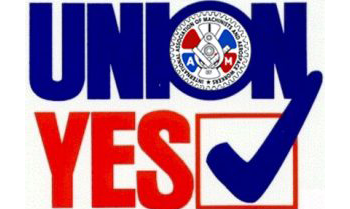 After an eight month battle, more than 600 workers at K&N Engineering in Riverside, CA received word last week that the National Labor Relations Board certified the IAM as their exclusive collective bargaining representative.
The new members of IAM District 725 originally voted in favor of the IAM in May of 2016, but the company challenged the results of the election citing the inclusion of a group of employees that were not petitioned for. Ultimately the company's challenge was unsuccessful.
"I commend this group of workers for standing strong and staying united throughout this long and arduous process," said IAM Western Territory General Vice President Gary Allen. "They endured a heavy anti-union campaign and did not back down in the fight for justice."
The group was led by Western Territory Grand Lodge Representative Joseph Solis, with committed support from District Lodge 725 President/Directing Business Representative Larry Olinger, along with District 725 staff and rank and file members. K&N employees endured a lengthy anti-union campaign, including an NLRB challenge, but are now gearing up for first contract negotiations.
District Lodge 725 is at the forefront of organizing and represents over 5,500 members in the aerospace, defense, and manufacturing industries throughout California.
The post 600 Californians Win Right to be IAM'ers appeared first on IAMAW.
Source:: iMail